Our Brown Bear Cruise
Most of brown bear tours in Rausu are short cruise of 2- 2.5hours. As it often takes about 2 hours for the round trip to the tip of peninsula, guests may have only about 30-40min to face to brown bears. This might be good enough for general tourist but would be too short for serious photographers and nature lovers. We provide special boat tours of 5-6 hours duration to keep enough time for photography. An English-speaking wild-life photographer/naturalist is usually onboard and optimize the position and direction of the boat. In case of bad weather, we may have to return to the port earlier.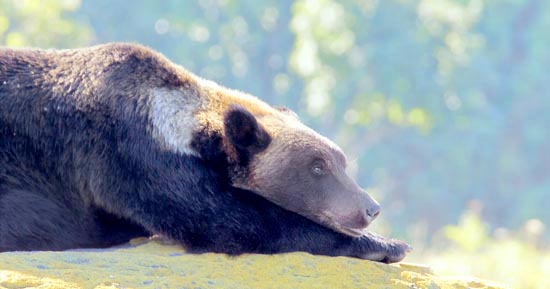 Reservation and Meeting Point
Meeting Point and Time : Fish Owl Observatory at 8:30AM
Departure:Port of Aidomari(30min. drive from Town of Rausu) 9:00AM
Durtion of Cruise:5-6 hours
Date: April 29ーJune 30、Aug.1ーSept. 10
Fare:15,000Yen/guest
Number of guests: 2-9 guests.
For reservation, please fill the reservation form and send us by e-mail or Fax.
e-mail
office@enonokanature.sakura.ne.jp
Fax +81-0153-27-1435

Please bring Lunch, Snack and Drinks. - Lunch and Toilet Breaks.
Please bring lunch, drinks and snacks as we will be with bears for many hours. We are going to make lunch and toilet breaks in a calm bay for several times. We set up a toilet tent at the end of our boat.
Weather, Departure time and Hotel of Previous Day
The weather condition of tip of Shiretoko Peninsula is unstable. As we use a small boat, weather condition may force us to change the departure time . We suggest all guests to stay in Rausu on the previous night. In May and Sept., the weather is more unstable, and cruises are more often cancelled. Guests would be better to stay in Rausu more than 2 nights. Seasickness is generally much easier than whale watching cruises, as we will not get out in rough condition.
Temperature and Clothes
The air temperature is generally 10-25 C. But sea water is always colder by about 10 C. It means that you may feel much colder, when the boat is running. you would better to bring extra clothes in any season. Depend on wind direction, guests may have water splash. Water proof clothes would be recommended especially in a windy day.
Distance to Bears
In spring season(May-June), the average distance to bear is about 100m. This is slightly far for closeup photography, but it is close enough to observe their behavior by binocular. In Aug. and Sept, we can get closer to them. Bears mostly stay on shoreline and swim into bay to catch salmon. Our boat stay about 100m away from a bear initially. As bears walk and swim for searching foods, they often come closer to us.
Lens and Camera
As we are going to shoot from a small boat, big lenses with tripod may not work well in a windy day. A 500 or 600mm class zoom lenses of handheld with cropped body often get better results. We will find more bears in spring season, but the distance could a little further. In Aug.-Sept, bears could be closer as they mostly stay on shoreline.